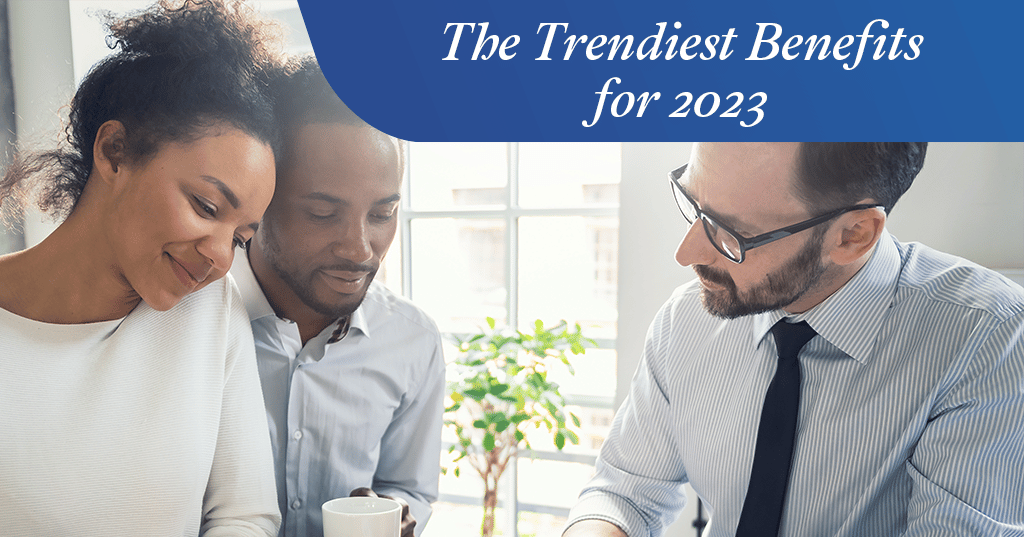 The Trendiest Benefits for 2023
Benefits have always been crucial for attracting and retaining top performers. For 2023, employers are uniquely positioned to offer more than just a health care plan, including holistic benefits, resources, and perks that today's workers most need. This article highlights benefits that are likely to be popular in 2023.
Voluntary Benefits
It's no secret that healthcare costs in the United States have risen sharply over the past two decades and will likely continue to increase. Healthcare affordability is top of mind for employers and employees alike. As employers search for ways to manage their healthcare costs, some are considering voluntary benefits as a strategy to round off their offerings. A rising number of organizations recognize that voluntary benefits are advantageous to employees and their families—and many come at no cost to the employer.
Consider the following popular secondary benefits employers are offering:
Accident insurance
Critical Illness
Hospital indemnity insurance
Disability insurance
Life insurance
Identify theft protection
Pet insurance
Voluntary benefits can provide value to employees without raising an employer's costs, making them powerful tools for attracting and retaining top workers.
Financial Wellness Benefits
Many employees are feeling financially strained due to record-high inflation. Not only will inflation impact employees' decisions about benefits, but it may also result in a need for financial wellness education and guidance.
However, financial wellness benefits must go beyond only offering educational resources to be impactful. Organizations can boost their attraction to today's workers by offering the following types of desired financial wellness benefits:
Retirement plan options with matching contribution
Financial planning assistance and coaching
Employee discount or purchase program
Financial reimbursements (e.g., tuition or student loan repayment plans, caregiving support funds, and professional development stipends)
Reach out to HRPro to learn more about trending employee benefits.