Are you feeling overwhelmed by all of the HR tasks? Don't struggle alone.
Managing HR practices can be complex and overwhelming for any business. From attracting top talent to retaining and developing employees, HR is crucial for the success of your organization.
We understand that HR requires active problem-solving, strong interpersonal relationships, and dynamic decision making all while maintaining attention to constant compliance changes and everyday tasks. That's why we're here to help. 
Schedule your online Strategic HR Roadmap Session with HRPro today and let us help you navigate the complexities of HR practices, so you can focus on growing your business. 
 Areas we will focus on:

Attract – Find and hire the right employees for your organization
Onboard – Smoothly integrate new employees into your company
Engage – Increase employee satisfaction and commitment
Develop – Invest in the growth and development of your employees
Reward – Recognize and reward the achievements of your employees
Retain – Keep top talent within your organization
Expert Guidance in Building an HR Strategy and Roadmap
Learn from HR professionals who have endured it all – and succeeded. We'll show you the secrets to streamlining every aspect of HR teams. Our proven methods can be applied to teams of all sizes in any industry.
By the end of our session, you'll have personalized HR roadmap templates that will improve efficiency now and prepare you for growth in the future. We learned the hard way so you can learn the easy way!
Benefits of a Human Resources Roadmap
Clear direction for future growth: a human resources roadmap is a living, breathing document. It's scalable as your business grows, and it will help streamline that growth.
Vibrant company culture: A robust company culture facilitates improved productivity and employee growth through a better employee experience. HR roadmaps serve as a step-by-step guide to building a culture that keeps a workforce engaged and growing.
Improved business models: An effective HR roadmap brings your business model to live by strategically identifying the most qualified talent for critical roles throughout the organization.
Clearly defined HR goals: goals are crucial for business success, but HR goals can be difficult to define. Our HR roadmaps will help you set workforce goals designed to improve business success.
Automating administrative efforts: you might be surprised by some of the clever ways our HR professionals have automated certain routine tasks. Your roadmap will help you automate these tasks for more efficiency-improving opportunities.
Workforce Resource Planning: HR teams use roadmaps to determine the resources needed for the workforce to operate. This includes resources related to both job functions and employee benefits. Roadmaps can help determine which resources are necessary, which may become necessary as the business grows, and where resources are currently being wasted.

Easier regulatory compliance: government regulations are constantly shifting, and many of them directly impact the relationship businesses have with their employees. A roadmap will help you adapt quickly as the regulatory landscape shifts.
Unleash the Potential of Your Business with HRPro's HR Roadmap Session.
Are you tired of the overwhelming and complex HR practices that slow down your business's success? HRPro can help. For a small one-time investment of $497 (valued at $1500), our team of experts can review your current route and build you a custom HR Roadmap.
The process is simple: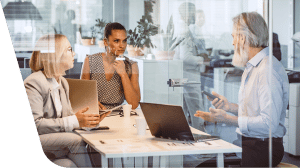 Secure your session online: Schedule a convenient time that fits your schedule for a 1hr 30min virtual meeting
Participate in an active, engaging journey into your HR reality 
Connect with our team to review your report (a PDF file will be provided)
Walk away with practical suggestions and recommendations to improve your HR functions 
This report will detail any roadblocks between you and success, ensuring that you understand how to make smarter business decisions and reach your destination efficiently and stress-free.
Don't let complexity slow down your success. Invest in HRPro's HR Road Map and take control of your HR practices.
Not sure if this session is right for you? Schedule a quick Discovery Call to find out.