5 Modern Ways To Attract and Keep Amazing Employees In The Construction Industry
Most businesses struggle to retain and hire the best employees. The way we value and view jobs have changed in the past two years. What worked in the past no longer works for employers in the construction industry.
When we can't find an employee, we say, "No one wants to work." The truth is, most people want to work; they just want to work smarter, have enough money to cover ever-increasing expenses, and still have time for fun. During the last six months, 43% of American workers have considered switching jobs. Here are five modern ways for construction companies in Michigan to retain and attract employees:
The most common reason people switch careers or companies is money. Review what benefits and pay structure you have in place for your current and future employees. In addition to making sure your new employees are paid at market value, make sure your seasoned workers are not overlooked. In the current job market, employers can and should prioritize fair and consistent compensation. In the long run, keeping a good employee happy where he/she is is more cost-effective than bringing in a new employee as a replacement. TIP: Make sure employees' salaries and wages reflect current market value as well as their growth and development at least once a year.
Make sure your job posting is designed to attract and not repel your candidates. We all had bad hires, but these instances should not dictate how you write your job descriptions. You need to write a job description for the good hire, not to avoid a bad hire. Not sure where to start? First, let someone unfamiliar with you or your company read your new job description and tell you if they even want to apply for the job. You should read the job description yourself and honestly consider whether you are interested in the job. Is there more negativity than positivity? Are you listing what you want or what you DO NOT want in a candidate? Write a job description to attract your ideal candidate but allow room for people to grow into the role. TIP: Consider offering a paid "shadow me on the job site" day, so a candidate can see if the job aligns with their expectations and delivers on promises. Engage your candidate into your culture for a day and buy them lunch too.
Consider perks that you can offer that are unique and aligned with your company's values and culture. The foundation of a good life is financial security, but it is not just a paycheck, but the benefits and perks they receive from their jobs. Weekly chiro adjustments? Is lunch delivery on-site (doordash, ubereats)? A round of golf? Camping fee or park pass reimbursement? Pet insurance? Paid vacation? Student loan assistance? Tax-free Education? Summer hours? All this is possible with the right setup and administration on your end. HRPro specializes in the administration of tax-advantaged (perks and benefits) spending accounts and provides services that will help you maximize these benefits. And yes, typical benefits are a necessity now, not a frill!
Offer flexibility in the schedule to meet individual situations your employees might have. Leaving early to pick up a child from daycare? No problem. Need a half day to recharge? No problem. Have an appointment you cannot miss? We will work around that. Not feeling well? Please stay home and rest. Treat others how YOU would like to be treated. Setting your current and future employees up for success is crucial. It takes both pieces—financial and relational—to build trust and loyalty with employees. Without these, people will leave.
The use of technology for recruiting, hiring, onboarding, and supporting employees is often overlooked by employers. Although most companies are moving along with the latest, coolest technology, we still have people filling out generic paper job applications. By using modern technology solutions available today, you can eliminate paperwork headaches and speed up the hiring process (and look cool!). Every step of the way can be accessed online or on the phone app and streamlined to meet your and your employees' demand for new technology. How to get started? HRPro's exemplary administration staff will help your people's processes run more efficiently and effortlessly.
If you do not adapt to current hiring and employment practices, you will continue to say that "no one wants to work anymore" – your business will become stale. You will continue to overwork yourself and your staff. But when you set your new hires and current talent up for success, you will build meaningful relationships that transform into business expansion and growth.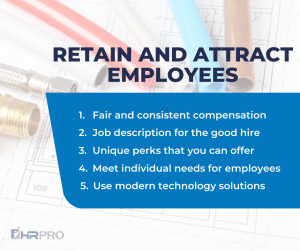 It is easy to read an article, have an "Aha moment" and never take any action. Before you know it, you are complaining about people again. To avoid that, start with #1 and review current employees' pay structure and benefits to gauge where they need to be for the current job market. We can help you get through all 5 steps fast.