Midyear is a great time to evaluate HR progress and recalibrate any efforts to close the year strong or inform forward-thinking strategies to maintain a competitive edge moving into 2024. This blog post highlights HR trends to follow during the second half of 2023.
Continued Labor and Talent Challenges
Recent economic indicators and data reveal that the labor market is resilient and starting to cool down. However, the labor landscape is still highly competitive as employers work to attract and retain today's top talent. Employers can expect to face continued labor and talent challenges throughout the rest of the year, and likely into 2024.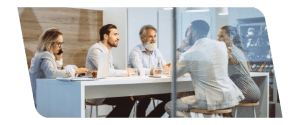 According to the U.S. Bureau of Labor Statistics (BLS), the country encountered an unexpected 10.1 million job openings in April 2023—compared with a revised 9.75 million in the month prior—following three months of declines. As a whole, monthly job openings have dropped from a record high of 12 million in March 2022 but remain well above the pre-pandemic benchmark of 7 million.
Additional BLS data also shed new light on other employment trends in the country. The May 2023 jobs report uncovered that U.S. employers added 339,000 nonfarm jobs throughout the month, surpassing expectations. Job growth has remained positive now for 29 consecutive months. Furthermore, the unemployment rate rose from 3.5% in April 2023 to 3.7% in the following month—the highest since October 2022 and near its lowest level since 1969.
A larger labor supply helps ease a tight labor market and puts downward pressure on wages since there's less competition among employers for job candidates. The recent jobs report indicates that the labor market continues to be stronger and more resilient than expected. Additionally, the report is helping to ease worries that the U.S. economy is heading into a possible recession. Notably, workers' wage increases have slowed even as hiring has strengthened. Slower wage gains could result in less upward inflationary pressure on the economy.
The demand for labor is still strong, indicating that employers' struggles to attract and retain workers will likely continue for the foreseeable future. With this in mind, employers should continually monitor employment trends to stay competitive in today's evolving market.