Complete HR Business and People Solutions — for the modern world.
HR Roadmap Session Process Is Simple: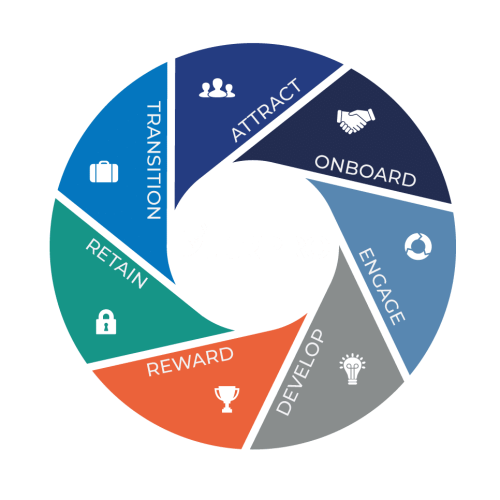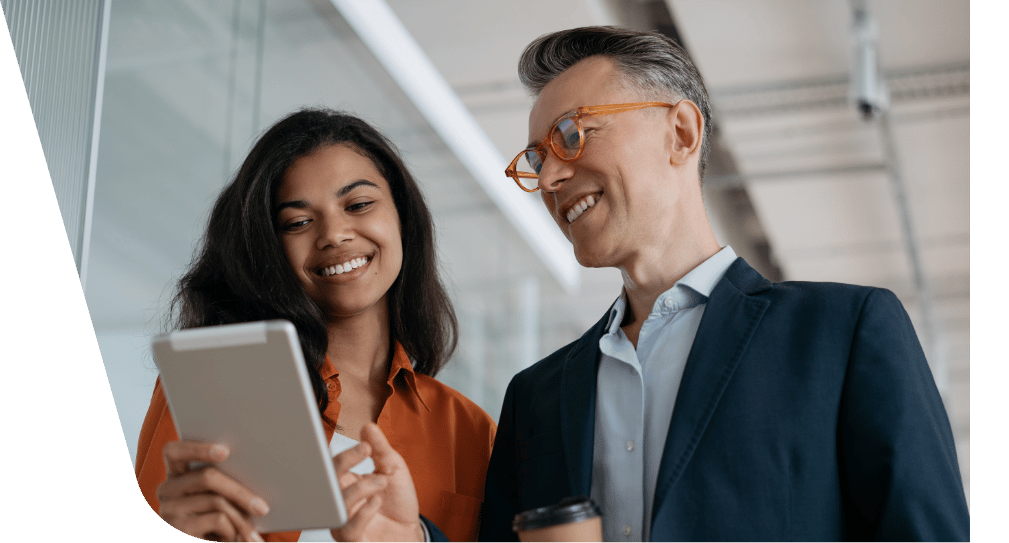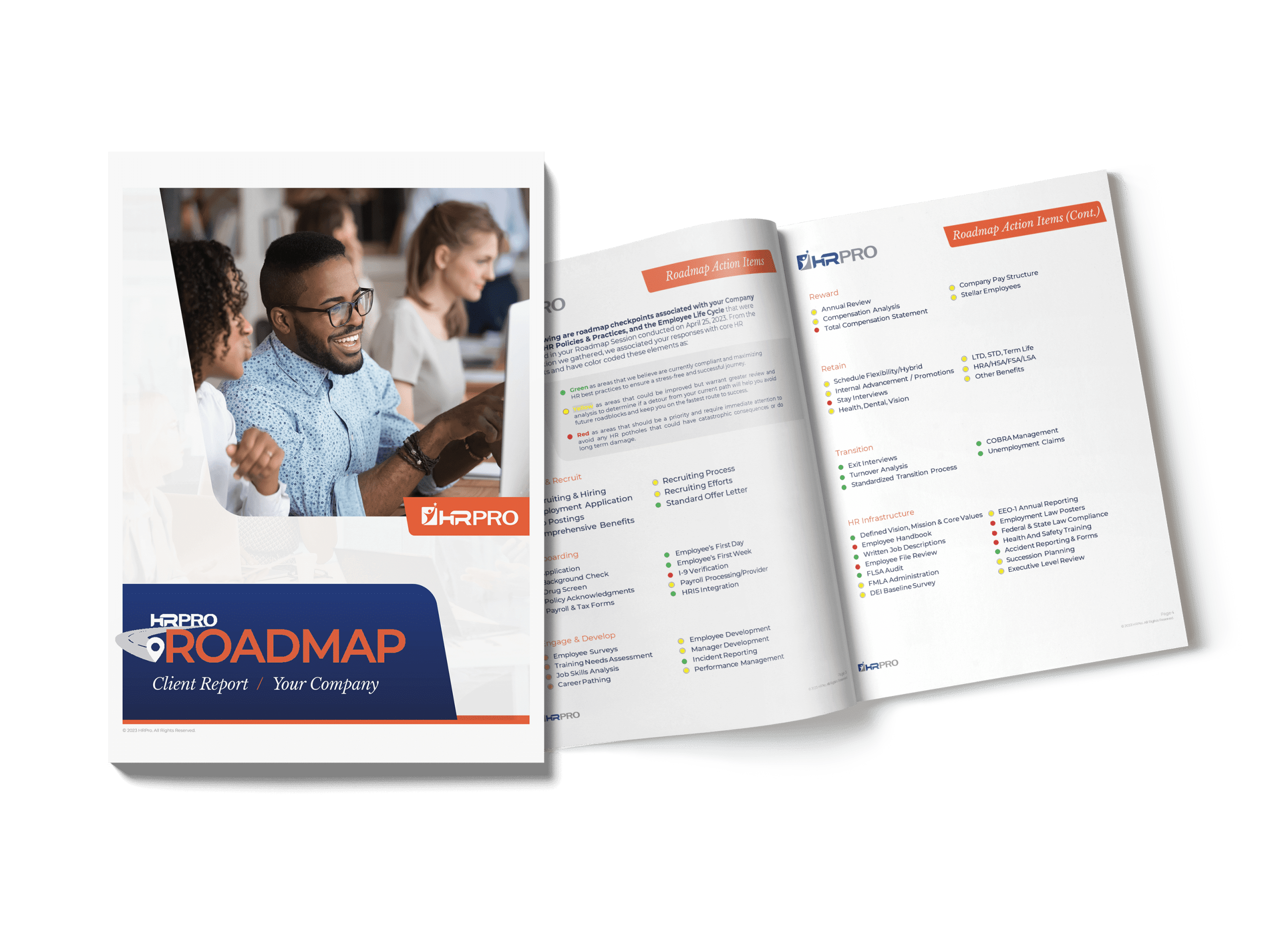 By participating in HRPro's HR Roadmap session, you will have the opportunity to walk away with practical suggestions and recommendations specifically tailored to enhance your HR functions. Through this session, you will gain valuable insights into the pitfalls and roadblocks that may currently hinder your HR practices.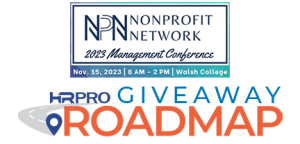 For Nonprofits and Companies with 25+ employees.
We're here to help.
We understand that HR requires active problem-solving, strong interpersonal relationships, and dynamic decision making all while maintaining attention to compliance changes and everyday tasks. 
Schedule your online Strategic HR Roadmap Session with HRPro today and let us help you navigate the complexities of HR practices, so you can focus on growing your business. 
Areas we will focus on:
General HR Infrastructure
We will also focus on all areas of the employee lifecycle:
Attract – Find and hire the right employees for your organization
On-Board – Smoothly integrate new employees into your company
Engage – Increase employee satisfaction and commitment
Develop – Invest in the growth and development of your employees
Reward – Recognize and reward the achievements of your employees
Retain – Keep top talent within your organization
Transition – Assist terminating employees or those moving into a new position within your organization

Unleash the Potential of Your Business with HRPro's
HR Roadmap Session
Are you tired of the overwhelming and complex HR practices that slow down your business's success? HRPro can help.
For Nonprofits and Companies with 25+ employees.
Your HR Roadmap Session Hosts
Session Host:
Nick George
National Business Development
Strategist – Northeast US
If your organization is headquartered in the Northeast US, set up your roadmap session with Nick.
Session Host:
Jennifer Wajeeh
Vice President Sales & Marketing
National Solutions Advisor – West Coast
Set up your roadmap session with Jennifer if your organization is headquartered in the Western part of the US.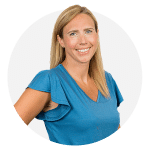 Session Host:
Somer DePestel
National Solutions Advisor –
Southeast US
Somer would be happy to host your roadmap session if your organization is headquartered in the Southeast US.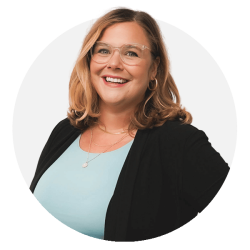 Your HR Professional:
Carolyn Elliott, MSW, SHRM-SCP
Director of HR Advisory Solutions
Carolyn has nine years of business experience in HR disciplines and holds her SHRM-SCP. She partners with the Vice President of Human Capital Management to service HRPro's HR Consulting clients and upholds HR Pro's mission: to help organizations take better care of their people.
Carolyn is passionate about the constant evolution of Human Resources and the ongoing opportunity to align business objectives with the employee experience. Problem-solving, relationship-building, critical thinking, and change management are central to Carolyn's approach when interfacing with clients. She sees herself in a unique role as a consultant, one who is able to provide coaching support for leaders while asking tough questions to enhance the organization's effectiveness.
Carolyn was previously in the nonprofit sector as a manager of professional development and training. She has provided oversight for developing new clients, quality and compliance continuous improvement efforts, and training across the country—including in Hawaii! Her training impact spans over 1,000 people. She has a keen focus on organizational development and systemic improvements.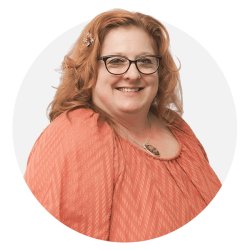 Your HR Report Advisor:
Mary Ann Fisher
Vice President of Human Capital Services
Mary Ann Fisher is the Vice President of Human Capital Services at HRPro. She joined the company in 2008, eager to be a part of such a fantastic organization. Throughout her time at HRPro, Mary Ann discovered a deep alignment with the company's core values and was inspired by the dedicated team of employees who prioritize client service.
Starting her journey at HRPro in the Billing and Enrollment department, Mary Ann grew her role as the company expanded into Payroll/HRIS services. With her many years of experience in Payroll, HR, and Benefits, Mary Ann was well-equipped to take on the challenge and make a significant impact.
As an expert in the field, Mary Ann has onboarded numerous clients and streamlined their processes through the use of HRPro's systems. With over 30 years of experience in Human Resources and Payroll across multiple states and an in-depth understanding of various systems, Mary Ann has risen to the role of Vice President of Human Capital Services.
Why is it important to have HR professionals on your side?
HR is more than just paperwork and compliance. A team of experts can help you create a positive and productive workplace, attract top talent, and retain valuable employees. Without addressing HR issues, you risk high turnover rates, low employee morale, and even potential legal problems.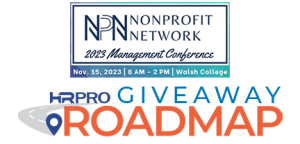 2023 Non-Profit Network HR Roadmap Session GIVEAWAY
The contents of this webpage are Copyright © HRPro 2023. All Rights Reserved.